by Brian Troutman on May.17, 2009, under Odds and Ends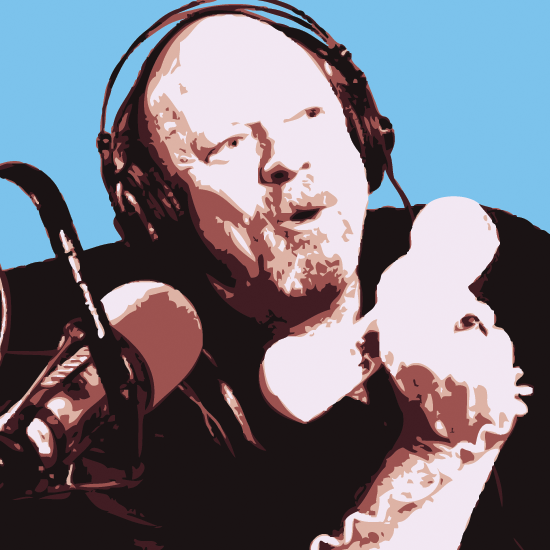 The setting is a typically mundane AM talk radio station in the late evening hours approaching midnight. Mavis, an elderly African-American woman, calls into a national talk program outraged that her recently deceased nephew was given a Roman Catholic funeral, a ceremony in which Holy Communion is celebrated. To a listening audience of millions, Mavis charges that the flesh and blood offered during the eucharistic celebration were taken from her nephew's corpse. A Catholic priest calls in, attempting to explain the truth.
Mavis: You said you eat the blood and the flesh.
Priest: Of who?
Mavis: Of the man.
Priest: No, of Jesus Christ.
Mavis: Oh God alm… That is a blasphemy!
Priest: Well, if you choose to believe that. All I'm trying to do is to inform you about our beliefs because you've been misinformed.
Mavis: Do you eat up on the booty, too?
Priest: (shocked) I'm not even going to answer that.
Host: (puzzled) I don't understand… what, what's that mean?
The astonished and bemused caller has unwittingly fallen into the trap of Phil Hendrie, much to the delight of his dedicated listeners. What the caller does not know is that the show's guest, supposedly an elderly African-American woman calling from her home in Bellflower, California, is actually Hendrie himself affecting a voice over a telephone receiver held firmly in his right hand. The stunned priest, however, is real, calling from a payphone somewhere along a street in greater Los Angeles. He is so outraged by the woman's ridiculous claims that he has no choice but to pull over and call the talk show he has been listening to on the car radio.
"Sound crazy?" Phil casually remarked, "That's what we do on our show."
Compared to the dry financial advice, predictable political rhetoric, and shameless self-promotion that inhabits the nighttime AM airwaves, Hendrie's bizarre presentation seems like it originates on another planet. Although his program content often sounds enough like standard AM talk fare—an author promoting his book, a fitness expert discussing an innovative workout routine, a teacher explaining her new disciplinary method—Phil Hendrie's radio show could hardly be more unique. Indeed, Phil Hendrie is one of the most original and gifted personalities in radio history, and while he has achieved national success with his program, he has probably not achieved the stratum of fame and fortune that his amazing talents warrant.
In the Beginning
In some respects, Phil grew up living the archetypical existence of an American baby boomer. Born in Pasadena, California in 1952 to Canadian immigrants, he had a very white-bread childhood with education at Holy Angels Catholic School in Arcadia and obligatory outings to Disneyland on weekends. In his teenage years, Phil's father fled the family for a younger bride in Europe, and the remaining Hendries' previously comfortable middle-class life fell upon tumultuous times. Through the mid '60s and into the '70s, he became a Beatles fan, a Led Zeppelin fan; he grew long hair, experimented with drugs, and hitchhiked across the country. Throughout it all, Phil was meeting interesting characters, experiencing life, and developing perceptions of people and the world itself that would influence the conception and development of his myriad radio personas decades later.
From his earliest years, radio was a fascination for Phil. Recounting an experience from his youth, he described his early connection with the medium.
It goes all the way back to when I was a five-year-old kid, and we were going to Canada… And as we traveled across the country, at night—it seemed like always at night, maybe it's because everybody was asleep and I was the only one awake, my father and I. And my dad would be driving, and I was standing up in the days before car seats with my arms resting against the front seat, and I was looking out through the windshield my father was looking out as I saw this dark snake of a highway. And I heard this radio that my dad had on; I would listen to the radio stations fading in and out from Denver, Colorado; Cheyenne, Wyoming—you'd hear the voice of some guy in Chicago, and they all sounded the same. They all sounded friendly, and they were talking to me, and they were live, and they were telling me what the temperature was, and what it was like in their town, and playing these cool songs. And I remember thinking, even at that young age, I've got to do this.
Even as his nuclear family disintegrated, Phil found comfort in the radio, its music, and its sometimes enigmatic personalities. He would ride his bicycle to the studios of local radio stations, hoping to get in the broadcast booth or meet his on-air idols. On one occasion, he walked into the studios of KRLA and crossed paths with the legendary "Emperor" Bob Hudson. Over the air, Hudson was a smooth-talking, 45-spinning DJ who boasted that his chambers were lined with leopard skin and that slender servant girls fed him peeled grapes while gently fanning ostrich feathers. The Emperor's clothes, as Phil discovered, consisted of a sloppy sweatsuit and slippers. Instead of a debonair figure, Phil found a pudgy, pasty middle-aged man weaving impossibly tall tales.
Getting away from his troubled family life in southern California, Phil traveled to central Florida in the early '70s and found himself doing concrete construction work in the vicinity of the then-new Walt Disney World complex. In 1973, he landed his first radio gig at tiny WBJW, a soft rock and easy listening station in the Orlando suburb of Winter Park.
For nearly two decades, Hendrie would be a run-of-the-mill jock, a type of broadcasting which he now loathes. "Music radio, when I got into it, was long past the years of disc jockeys picking their own music. Those days were dead." From Orlando, Phil's career scattered across the landscape, and he held a string of short-lived gigs in Miami, New Orleans, San Diego, and elsewhere, eventually returning home to Los Angeles.
By the late '80s, Hendrie's career ranked somewhere between "mediocre nonevent" and "catastrophic failure." Nearly forty years of age and unmarried, earning a modest income and driving a rusty old Chevrolet Blazer, he had been fired from one job after another. In 1990, Phil was on tiny KVEN in Ventura, California when the Persian Gulf War broke out, inspiring him to do something completely unusual. "With no job to go to as a disc jockey, with literally pennies in my hand…I just turned the mic on one day and started being Phil Hendrie for the first time in a long career," he recalled. Posing as an Iraqi expatriate named Raj Fahneen, he condemned the U.S. invasion of Iraq and said that instead, President George Bush should surrender to Saddam Heussein. The previously darkened phone lines lit up with calls from livid listeners who wanted to argue with the Iraqi. Even then, Hendrie knew that he had a truly revolutionary idea that was bound for a national audience. "I knew that there was nobody else doing what I was doing," he said, "but I never thought it would be such a difficult road to travel."
Something's Turned
Leaving southern California again in 1992, Phil first moved to a powerful regional station in Atlanta, WSB. Unlike in Ventura, where five-kilowatt KVEN transmitted his voice within range of roughly 600,000 people, WSB's 50,000-watt signal put him within reach of nearly five million listeners. His unique brand of humor constantly proved an awkward fit with the rest of the station's staid news talk lineup, but a few audience members recognized the genius in Hendrie's work and became dedicated fans. "That's when I began to develop the characters further," Phil said, "and I even got the first fan club going for one of our characters."
After only months on the station, Phil was fired by WSB management, and he moved onward to another major-market station, WCCO in Minneapolis. Like WSB, WCCO was a sober "heritage station," a Peabody Award-winning journalistic institution whose hallowed frequency once carried the voices of broadcasting legends like Edward R. Murrow and Walter Cronkite. Hendrie's fellow WCCO air personalities and many in station management quickly became his enemies, making efforts to get rid of him. Phil recalled "There were people behind the scenes who tried to get me fired…for no other reason than I did a show that was strange." Still, he gained some fans in the Twin Cities, although in 1994 when he was offered a more lucrative position at WIOD in Miami, he jumped at the opportunity. "The general manager of the station [at WCCO] at the time hated my guts," Phil reflected about leaving Minneapolis, "but he offered to extend my contract for a year. Now that's when you know something's turned."
Miami provided the setting where Phil Hendrie would find a solid footing for developing his many characters and a sizable base of devoted listeners. A stark contrast from WCCO, where a bow tie-clad Charles Osgood could occasionally be found recording an entry in "The Osgood Files," Miami's WIOD was a more youthful and progressive station featuring off-center talents like the openly gay Neil Rogers and the "crude, loud, brazen" Randi Rhodes. WIOD station manager Bob Green saw enormous potential in Hendrie's amazing talents and encouraged him, even when one of his comedy skits prompted a defamation suit from the Miami Dolphins. Hendrie's growing public popularity sparked live public appearances and annual "best of" CD compilations which he sold as a charity benefit.
Cox Broadcasting, which then owned Miami's WIOD as well as KFI in Los Angeles, offered Phil the opportunity to move back to his home city, the second-largest market in radio. In 1996, his show premiered on KFI to the indifference and even contempt of the city's radio critics. Many columnists panned what they perceived to be a sophomoric and ridiculous concept, predicting that Hendrie's program would find little audience and disappear from LA airwaves within a year. Though his show struggled against a listener base that largely expected serious talk programming, Hendrie earned respectable ratings and survived his first year on KFI. Visionary program director David G. Hall, who transformed KFI from an underperforming "soft gold" music station into the most listened-to talk station in the country, recognized Hendrie's talents and helped him hone his approach. When Phil released his best of 1997 compilation CD, the cover art featured a portrait of a wry-looking senior citizen with the caption "Still on the Air."
As the years progressed, Phil built up a significant following in Los Angeles with thousands of devotees tuning in nightly to hear his original brand of comedic radio theater. By the end of the '90s, his program had become the number one rated program in its time slot.
Following a sale and a few back-to-back mergers, KFI became the property of Clear Channel Communications, the largest licensee of terrestrial radio stations in the United States. The company's syndication arm, Premier Radio Networks, claimed such A-list air talent as Dr. Laura Schlessinger and Rush Limbaugh, and Hendrie would make a prime addition to their roster of personalities. Beginning in October of 1999, Hendrie's cast of misfits and crazies invaded the radios of unsuspecting listeners across America. In short order, the duped callers from Van Nuys and Bakersfield would be joined by snaggle-toothed trailer dwellers from Alabama and irate truck drivers hauling freight across the Dakotas.
Behind the Curtain
What you are about to hear is a satirization of talk radio, a send-up of the medium. In other words, it's supposed to be funny.
Though Hendrie's show plays off the ignorance and gullibility of casual listeners, he has never been secretive about his dual roles as host and guest. On many occasions, Phil has aired an explicit disclaimer at the show's open indicating that his show was a put-on. In fact, Phil sometimes took a day off to break the show's "fourth wall" and explain the show's premise in detail. Wouldn't this candid display spoil his pool of potential callers? Everyone would be in on the joke, and then no one would fall prey to his outrageous characters, right?
According to Phil, this was never a concern. "It's the nature of radio—and I understand radio, and I understand the way audiences listen, and I understand the selective listening of people—that people will listen to what they want to listen to, and they won't hear the rest," he explained. As Orson Wells proved six decades earlier, when his radio production of War of the Worlds incited hoe-wielding farmers in New Jersey to hunt down recently landed Martians, radio listeners will suspend their common sense to believe the most ridiculously far-fetched stories. "I have broken this 'fourth wall,' so to speak, many times in the history of this show to stop down and explain the show," Phil commented, adding that each time, earnest and infuriated callers would reappear the following night to argue with his guests.
Furthermore, Hendrie has frequently asserted that he performs his show for his listeners, not the callers, and he draws a definite distinction between the two groups. "Listeners are listeners, and callers are callers," he explained. "One to two percent of your audience ever really calls the show." On air, Phil has often described talk show callers as the "lowest form of life," being a vocal minority of the audience that habitually calls talk shows, trying desperately to be pals with the host. According to Phil, his true listeners never call the show: "…audience never calls and is passive in its participation."
By the time his show became nationally syndicated, Hendrie's company of characters included about 25 regular, recurring personalities, each with unique perspectives, attitudes, and personal faults. "I've created all these characters, and I've given them all a history. I've given them all lives, families, futures, jobs, physical maladies—as the case may be—fears, neuroses of all kinds." Phil has indicated that, to be believable, a character must be much more than an unusual voice spouting odious rhetoric.
If I've got a character on my show who says that there are werewolves, that they can be killed with silver bullets, that I have to get a silver bullet and a silver gun to kill it on Halloween night, and I have to do this in lieu of the fact we are raising money for a girl's cleft palette surgery… How do you make people believe that guy's serious? Well, you have to create him as a serious person. You have to make him into a believable person. That goes beyond being a broad, sketchy kind of comedy. It becomes satire, but it's more than that. It becomes a piece of theater.
A perennial favorite character is Bobbie Dooley, a busybody homeowners' association president who Phil acknowledges has a close, personal inspiration. "Bobbie Dooley has a lot of my mother," Phil admitted, adding that all of his successful characters have roots in reality. "All of these are people that I met and knew at one time or another." Though Bobbie may appear on Phil's show to comment on a news story in the public consciousness like the disappearance of Laci Peterson or the fight over Terri Schiavo's life support, the real object of satire is not the public personality or news story being discussed but rather Bobbie herself—and the type of person she represents.
In a behind-the-scenes mock interview with Bobbie and her husband Steve, Phil exposed the true nature of this contemptable figure he created.
Bobbie: I am a typical Southern California phone activist, phone tree housewife. I'm the new fascism.
Steve: Yeah, she's like a Nazi.
Bobbie: I'm like a Nazi.
Phil: There. The new kind of suburban Nazi.
Hendrie has often said that he finds more laughter in real-life situations than in the most cleverly written comedic sketches or monologuing. Though odd premises like a housewife breast feeding her adolescent sons might seem absolutely absurd, Phil considers most of his characters' outlandish opinions and questionable exploits to be grounded in reality. "There's nothing we make up on our show that in two or three weeks—or maybe a month or two months—I don't see in the newspaper eventually."
He also prides himself on the authenticity of his calls. "I don't hire actors. And I don't do what a lot of talk shows do: I don't set up phone calls." He also eschews any unusual broadcast technology beyond a garden-variety telephone and recordings of ambient background noise used to heighten the reality of his guests' locales. The character voices are not pre-recorded or modified with a voice processor; he switches his vocal intonation on the fly at breakneck speed. Though he has a producer and assistant producer screening calls, Hendrie's show is largely a one-man operation, which is the only setup he could possibly tolerate.
I don't have no "zoo crew" here…It's just me. Not because I look down my nose at those other people, but I can't control the show if I have that many elements floating free. I have to control each and every aspect of this program and I found out that the best way to do that is for me to play all of those parts, like a one-man show.
In addition to satirizing the suburban fascist, the backwater bigot, and countless other laughable figures, Hendrie has frequently used his program to comment on what he perceives to be the dreadful state of modern commercial radio. In Los Angeles, he created a fictitious on-air persona of KFI program director David G. Hall. Though the real David G. was an intelligent, encouraging figure who nurtured Phil's development, the fictionalized character became an unsavory composite built from Phil's long history in radio. David personified an obnoxious, micromanaging bully who frequently phoned into Phil's show to berate him on the air. Other radio insider stereotypes included Elliot Vaneer, a plastic-smile DJ who was always on the verge of suicide; Phil the Prophet, a phony arch-conservative hellbent on vanquishing the scourge of liberalism; and Charlie the Complainer, a persistent phone-in protester who demanded that Phil's show be dropped in favor of "intelligent talk radio programming."
Reaching Beyond
Throughout the late 1990s, Phil's rising fame in Los Angeles caught the attention of many influential Hollywood figures. Executives from several major TV networks were fascinated with his bizarre show and decided to investigate potential television treatments. On many occasions, producers would visit him in the studio and watch quietly as he performed his solitary act. "They would sit there across the glass with blank stares," Hendrie explained, "and they realized 'There's no way I can put this on TV.'"
Nevertheless, Phil gained many friends in the world of Hollywood comedy, including Matt Groening of The Simpsons, Mike Judge of King of the Hill, Matt Stone and Trey Parker of South Park fame, as well as Garry Shandling, Adam Carolla, and others. These friendships led to Phil voicing characters for The Simpsons, Futurama, King of the Hill, Team America, and other TV shows and movies.
In 2002, Hendrie signed a contract with NBC to develop and star in a situation comedy pilot. The result of the deal was Phil at the Gate, a half-baked comedy in which Phil played the part of a former Detroit police officer. Retiring to the cushy job of security director in a sleepy southern Florida community, Phil's Floridian sitcom neighbors were as peculiar as Hendrie's radio personas. Co-starring character actors French Stewart and Laurie Metcalf, wacky character actors on their own, the format largely ignored the fact that, in addition to playing straight man, Phil was adept at both writing and portraying the oddballs as well. NBC quietly declined their option to produce the series.
A year later, the maverick Fox network approached him with yet another pilot offer. Unlike the NBC production, the Fox pilot would be animated—an "after hours" cartoon similar to South Park or the fare on Cartoon Network's Adult Swim. This time, he voiced many of the characters including many crossovers from his radio program. Phil was much happier with the result. "I thought the NBC pilot blew, and the Fox pilot was great," he summarized. While Hendrie's pilot had many supporters within the political structure of the Fox network, management passed on the show in favor of American Dad, a series from Family Guy creator Seth MacFarlane.
NBC again called upon Phil in 2005, but this time, he was not to be a co-creator or writer but instead an ensemble player in a new sitcom. Adapted from a British series by Matt Tarses, whose innovative Scrubs foundered before finding a loyal audience, the new series would be a comedic look at the "after the bell" life of New Jersey public school teachers. Phil was given the part of Dick Green, an apathetic, burned out phys. ed. teacher who frequently absconded between classes to hold impromptu barbecues and smoke marijuana behind the school.
First titled Fillmore Middle and later renamed Teachers, the format ostensibly shared a great deal in common with Scrubs: A young, outwardly slacking (though in reality, dedicated and caring) professional shares a workplace with his black best buddy, a nubile yet by-the-book female coworker, an overbearingly sarcastic boss, and a host of other misfits. The scenario, however, is where all similarities ended. Unlike Scrubs, which was a single-camera presentation employing surreal dream sequences, glitzy chorus numbers, and other ingredients not common to TV comedy, Teachers was as typical a sitcom as could possibly be imagined. A four-camera studio-bound show with an artificial laughtrack, Teachers played more like reruns of Saved by the Bell than NBC's fresh, edgy comedies like Scrubs, My Name is Earl, and The Office.
NBC picked up the series for a midseason replacement in early 2006 although reviews of the show were far from kind. Entertainment Weekly's review had a single-word title: "Generic." The Boston Globe reported that "You haven't seen 'Teachers' yet. But in a sense you have, on every other fifth-rate workplace sitcom ever made."
Variety chided Teachers for its misuse of Hendrie's talent.
In part, the series is most notable for what it isn't. Acerbic radio talk host Phil Hendrie turns up here in a supporting role, after unsuccessful efforts to develop a project around his double-talking antics in his principal medium. Here he's just another discontented grunt, snapping off one-liners.
Hendrie endlessly promoted Teachers on his radio show during the TV program's brief four-month run. He even went so far as ordering his listeners to "tune away from this radio program" when Teachers began and watch the TV show instead. By May of 2006, his efforts proved fruitless. Scathing reviews of the mediocre program demolished the sitcom's ratings as the weeks progressed, and NBC pulled the plug at the end of its initial run.
Blurring the Lines
With Hendrie, the division between reality and schtick has often been difficult to define. Inane conversations with his characters have often taken a subtly introspective tone, hinting that pieces of Phil's own naked psyche lay in the gaps between on-air laughs.
On one occasion, his David G. Hall character called Phil to reprimand him for poor treatment of Bud Dickman, yet another fictional persona, a mentally challenged but lovable intern who constantly ran afoul of Phil.
Phil: I fired Bud Dickman…
David: You didn't fire anybody. I said he's coming on.
Phil: He's a voice I created, just like you.
David: OK, all right. (sarcastically) "All hail the genius." 
There, do you feel better?
Though eminently fascinating and endlessly hilarious, Phil seems not unlike Andy Kaufman, a creative genius that could never be truly understood. Despite his best efforts, worldwide fame and unbounded fortune have eluded him. So what lies next for Phil Hendrie? Only the voices in his head know for sure.
:kfi, phil hendrie, radio