by Brian Troutman on Apr.13, 2011, under Odds and Ends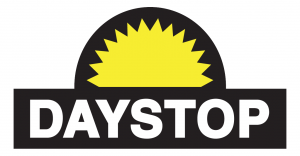 The traveling public may not miss Daystops—likely because they never noticed them in the first place. Though many adults reminisce about childhood vacation stays at roadside Holiday Inns or under the orange roof of Howard Johnson's, few have fond recollections of a Days Inn, much less a Daystop. With its first location having opened in 1970, Days Inn is something of an inter-generational brand. Founded about fifteen years after Holiday Inn and Howard Johnson's set the standard for highway-bound family motor inns in the fifties and about fifteen years before modern limited-service competitors like Comfort, Hampton, and Fairfield appeared in the eighties, Days Inn links both of these disparate conceptual eras, with the Daystop brand being one intriguing detour along the way.

Georgian real estate developer Cecil B. Day identified a void in the lodging market left behind as pioneers like Holiday Inn grew larger, moved upmarket, and of course, raised rates. Early Days locations copied much of Holiday's original format at lower prices and with a family focus. Original Days Inns housed the front desk and lobby along with a Tasty World restaurant and gift shop in a modest main building with a steeply pitched gable roof. Continuing the single-stop highway oasis approach, fuel pumps were typically available on site. Guests accessed rooms along exterior corridors in low-rise buildings clustered around the expected outdoor pool. Day termed the concept "budget luxury": offering roughly half of Holiday Inn's services in a facility about half the size and at about half the price.
Day's chain grew rapidly along the Interstate corridors of the Southeast, doubling in size every year from 1970 through '75. In the early seventies, the company created the Days Lodge moniker for larger, more amenity-laden properties offering extended stay accommodations at popular vacation destinations, yet the Days Inn brand and budget luxury concept remained the company's cornerstones. Cecil B. Day succumbed to cancer in 1978, never seeing the close of his chain's first decade, though in this short time, Days Inns had mushroomed to over 200 locations. Owing to Day's vision and dogged determination, his lodging chain had become the eighth largest in America.
Even in its founder's absence, Days Inn sustained remarkable growth through its second decade, although the eighties were perhaps more notable for rapid volleying of the chain's ownership between unscrupulous corporate raiders. The Day family, which had maintained its ownership stake in the chain after Cecil's passing, finally sold out to the Reliance Capital Group in 1984. What followed was a suspense novel of dizzying plot twists that saw the company taken public, then private, sold outright to private investors, taken into bankruptcy, and almost unbelievably, finally repurchased by the tycoon who originally bought the company from the Day family in '84. The cast of characters involved in these transactions included shifty figures later convicted of tax evasion, fraud, and other improprieties, and the peculiarities of how the chain survived bankruptcy by transferring its trademarks and receivables into a "bankruptcy remote" while the Day's original corporate entity died in insolvency is an incredible tale retold today in many finance texts.
Though the actual business of running hotels may seem to have become the MacGuffin that merely funded this sordid matrix of corporate double-dealing, the face and focus of Days Inns had changed dramatically by the dawning of the nineties. Pivotal to the chain's evolution was a shift from standardized, purpose-built, and frequently company-owned properties to almost exclusively franchised, independently operated units, including aging properties dropped from other chains. No longer strictly the family highway oasis, a Days Inn could be anything from a former Sheraton Motor Inn, complete with meeting rooms, a nightclub, and putting greens, to a recently constructed mid-rise christened a Days Inn on day one. Simultaneously, the company was reaching beyond its family vacationer roots launching incentive programs and frequent traveler clubs aimed at senior citizens, business owners, and government employees.
Considering its broadening base of customer constituencies, diverse portfolio of properties, and ongoing expansion efforts, Days Inns of America segmented its brand in the late eighties. True, they had already created a sub-brand with Days Lodge in the mid seventies, but this name had little application beyond the family crowd and remained in virtual stagnation through the nineties despite the chain's meteoric rise to national prominence. Days Inn remained the company's mid-market, all-purpose brand, and would still account for the vast majority of locations even after segmentation. The next logical target was the upmarket, full-service category, and the Days Hotel name addressed that group. The Days Suites brand was created for properties featuring larger rooms with separate living and sleeping areas, following an industrywide trend toward all-suite hotels.
The company was so dedicated to promoting the segment brands that, for a few years, advertisements, directories, and even soap wrappers and matchbooks dropped the "INN" from the familiar sunburst logo so that it read simply (and somewhat awkwardly) "DAYS" with a inscription below in small type: "INNS • HOTELS • SUITES • DAYSTOPS".
Daystops?
I vividly recall a warm August afternoon in 1992, standing before the bathroom sink in Room 116 at the Days Inn Harrisburg North, seeing the word printed on an ice bucket, and wondering what on Earth a "Days Top" could possibly be.
Ostensibly, Daystops were the company's counter to low-end competitors like Motel 6 and Knights Inn, aimed at the type of traveler whose chief travel objective was making good time from Tucumcari to Barstow. Daystops would typically lack a pool or continental breakfast, features common at other Days properties.
As the company's directories of the early nineties described:
"Daystops are conveniently located with comfortable surroundings at a low price. Services are limited, but comfort prevails with standard doubles or queen rooms, touch tone telephone, and color television."
Just as the name suggested, Daystops were to be places to stop for the day…err, night.
While Motel 6 grew by about 50% in the early to mid nineties, adding over 200 new locations, the number of Daystops never totaled more than a couple dozen and accounted for an infinitesimal portion of Days locations, which included more than 1,500 Inns, Hotels, and Suites by 1995. Of the few Daystops that did open, many were part of TA locations, Truckstops (now TravelCenters) of America. These previously unbranded TA motels theoretically benefited from customer recognition of the Days name and logo and inclusion on the chain's international reservations network, but the end result was hardly a winning combination. Long haul truckers infrequently utilize lodging accommodations, and when they do, the motel's attractiveness and adjacency largely sell themselves. On the other hand, family travelers who reserved a Daystop room through Days Inns' toll-free reservation line and arrived to find their vacation accommodations surrounded by behemoth diesel rigs and shady truck stop trawlers likely were quite disappointed.
Except for a brief mention at the head of Days directories, the company never promoted the Daystop brand, and like all of the company's brand segments, suffered greatly from significant overlap and poor quality control. Intentionally, Daystops lacked many amenities and were small-scale operations, but so too were many Days Inns. At the other end of the spectrum, some large, modern Days Inns with on-site restaurants and conference facilities likely should have been branded Days Hotels, while that title was sometimes sought by managers of hoary motor inns with delusions of grandeur. Instead of being all-suites properties, most Days Suites locations blended suites with conventional room types and were instead billed as Days Inn & Suites or simply Days Inn, often inconsistently within a single location.
And as the chain's segmentation efforts largely defeated themselves through nebulous definition and poor implementation, business behind the scenes demanded that the focus shift back to the middle-of-the-road Days Inn. By the mid nineties, the company's parent, Hospitality Franchise Systems (HFS), held a messy conglomeration of national lodging brands that included Ramada, Howard Johnson, Super 8 Motel, Knights Inn, and others. With so many budget brands vying for marketing attention, HFS had little motivation to promote the stillborn Daystop brand and gradually dropped any remaining vestiges of support for the name in the following years.
When the chain revealed an updated blue and yellow logo in 2007, variants for Days Hotels and Days Suites also appeared, but a Daystop variant of the new, gradient-happy "dairy fresh" insignia never materialized. (The uncommon Days Lodge brand, with its bizarre Pizza Hut-like logo, was also axed.) One-by-one, as the last Daystops' contracts came up for renewal, the chain revoked their franchises and struck the locations from Days Inn reservations systems.
Somehow, a few stragglers still remain—not to be found in any Days Inn directory or on the chain website—identified only by the stubborn old black and yellow sunburst logos and bold "DAYSTOP" lettering clinging to the spartan properties' facades. If the company's efforts to de-franchise the locations are executed as lackadaisically as the segmentation plans that created them twenty years ago, a scattering of Daystops will be with us for a long time to come.
:days inn, daystop, hotel, lodging, logo, motel